The University of Hamburg returned to EURC 2022 this year with their best roster yet. So good, in fact, that they are one of 16 teams coming into the CRL World Championship. Hamburg has less LAN experience than the other German teams accompanying them, making them a wildcard in terms of receiving a LAN buff. Despite this, Hamburg have plenty more going for them as they prepare to take on the World Stage the best they can.
Assembling the Team
Mjeyzo is the only returning student on the Hamburg roster, and is quite a special guy. At 26 years he's the oldest player at Worlds. Grandfather Mjeyzo made his first EURC Top 8 in the 2020 season with his old teammates Zhaitan and TK. Zhaitan graduated the season after and left the team in a mediocre state for a bit where they had no notable achievements.
Luckily, a year later, Hartmann joined the Hamburg Rocket League Discord where Mjeyzo got a hold of him and began to mentor him into a top 100 player. Mjeyzo thinks highly of Hartmann, calling him the "definition of a 24/7 grinder." 
With 2 rostered players down, Mjeyzo just needed to secure one more. He got the news that Calix was planning to study in Hamburg, where Mjeyzo told me he "shot his shot" in Calix's DMs. Calix was reluctant at first, but when the CRL Worlds LAN was announced he was convinced and ready to return to competition. 
"Calix obviously brings a lot of brain to the table as a former Pro player," said Mjeyzo. "[He] has completely reshaped mine and Hartmann's playstyle which led to struggles in the beginnings. But now we are quite comfortable playing together."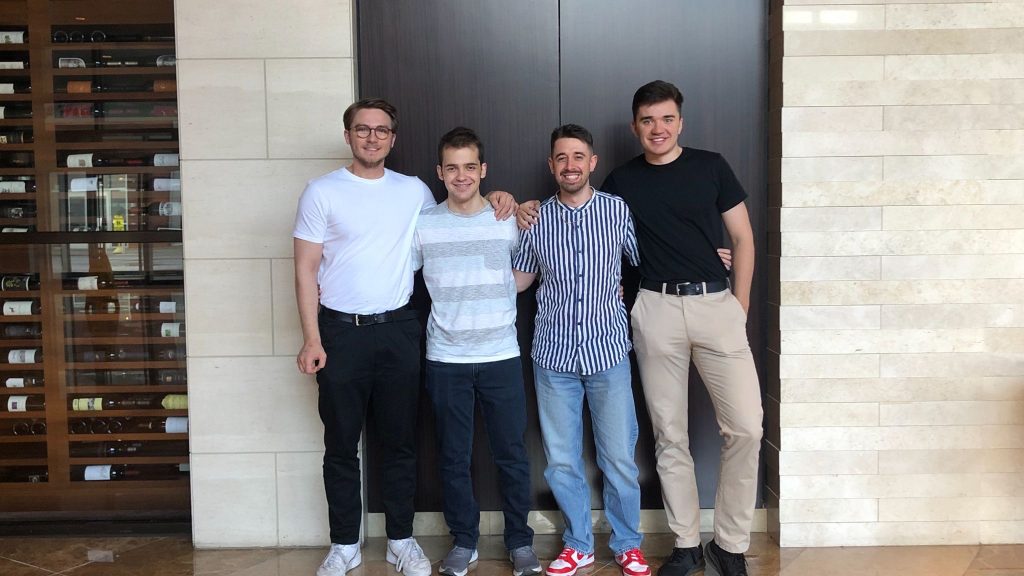 The Journey Here
The current roster got their spot in the 2022 EURC through the second open qualifier. They went 7-1 in Group B, only dropping a series 1-3 to Portsmouth. They went into the playoffs as the 7th seed which placed them against Bournemouth who they beat.  Hamburg's Upper Quarters match was an insanely close 3-4 loss to Berlin. They dropped to the lower bracket where they beat Erasmus but were ultimately knocked out by Keele.
All the EURC Playoffs teams had an opportunity to make Worlds still through the Last Chance Qualifier held the week after playoffs. Unlike the NA LCQ, only 2 qualification spots were available through the EU route. Hamburg blazed through the Upper Bracket, taking down Nijmegen 2-4 in the deciding match.
Outlook on Worlds
The Hamburger Haie Ahoi Bois are taking this chance seriously as this will be the last University opportunity for Mjeyzo who will graduate med school. Because Mjeyzo and Hartmann play for separate Nitro League teams, it was difficult for the team to schedule scrims. Their practice strategy was primarily to do replay analyses and grind mechanics solo.
When I asked Mjeyzo what he was looking forward to at worlds, he said, "We are obviously not expecting to go first in the tournament but we wanna show everyone we can put up a fight." It won't be easy to win matches with the amount of talented teams here, but Hamburg has something special. I like to ask teams what sets them apart from the others. Rather than pulling on accomplishments or rankings, Mjeyzo said, "I think what makes our team stick out is that out of the game we get along really well too. I don't think that's the case for every uni team."
From observing the team at Worlds, I can confirm that Hamburg chemistry is off the charts. "At the end of the day it is nothing to lose for us as the trip to Dallas already seems like a huge award."
Follow the Action
Hamburg University begins Worlds with a Group Stage Best-of-5 against Columbia College. Watch it on the College Carball Twitch on June 3 at 1 p.m. CT (6 p.m. UTC).
Match results and brackets will be posted on both the College Carball Twitter and the Rocket League Esports Twitter.
Check out the schedule so you don't miss a beat!