Qualifying for Worlds the Hard Way
The University of Central Florida Rocket League team, known informally as the UCF Knights, have had an incredible run in this Spring 2022 season of CRL. They held the undefeated, first place slot throughout most of League Play before losing their final 3 matches. This led to a final League Play record of 12-3 and a demotion to 2nd place. After qualifying for East Playoffs as the 2nd seed and winning their first-round matchup against Oakland, they took two consecutive losses to Stockton and St. Clair. This knocked them out of contention for an automatic bid to the National Championship and Worlds.
After this loss, UCF still had a chance to qualify for the World Championship through the Last Chance Qualifier. They clutched up and advanced undefeated all the way through the upper bracket, making it to the Grand Final. The Knights lost the Grand Final 2:4 to Valleyfield, but they still secured 2nd place in the LCQ. This was just enough to qualify them, which means they will compete in the first ever CRL World Championship. 
An Unlikely Team Forms
This team consisting of players "Azfura," "Bambii," and "Luke" should not be underestimated. They've certainly proven that they have the skill, chemistry, and determination to compete with the other top teams in North America, and they'll be giving it their all on the world stage. I had the chance to talk with the team manager of the UCF Knights, Alexander "Laser" Phipps. To start, I asked Phipps how everyone on the Knights roster met. He told me: "Most of the players on the current Knights roster are relatively young, [All three starters] are currently freshmen or sophomores. We met through Esports at UCF before starting class at the university, and none of us had known each other personally prior to starting here." This comes as a bit of a surprise considering how strong their chemistry is. It's impressive the amount of rapport they've built in such a short amount of time.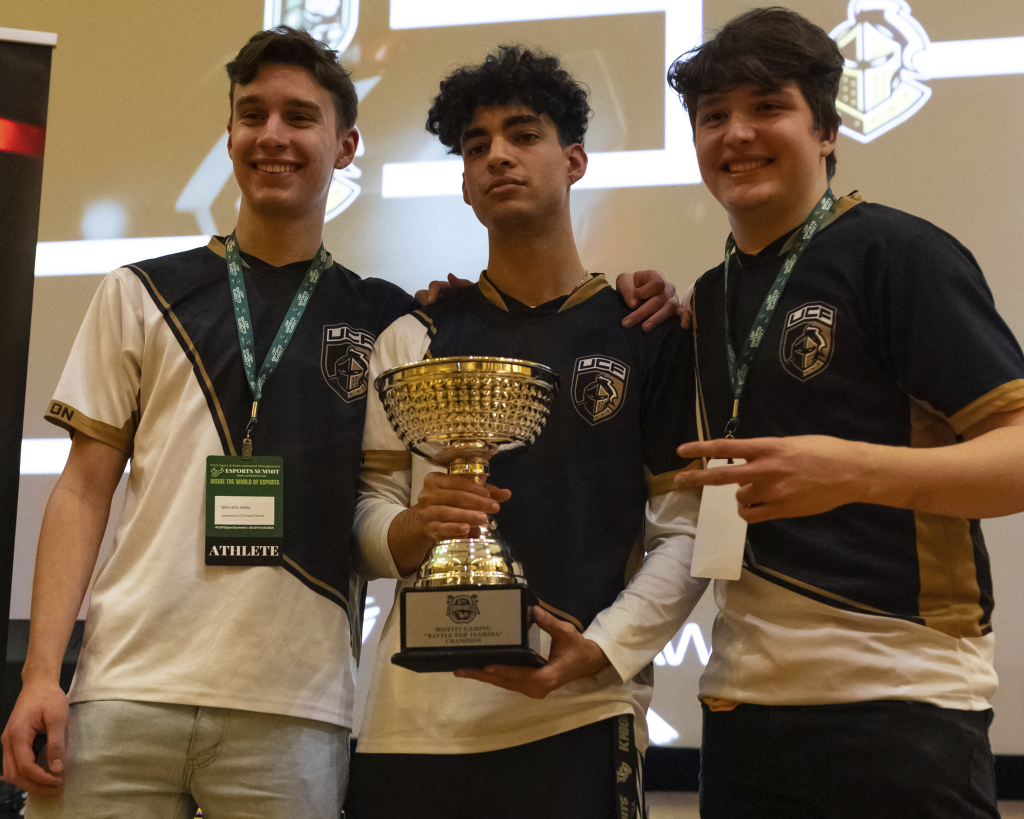 Success and Hardship
I then asked Laser what he believes to be the team's biggest accomplishment so far this season. "Picking one biggest accomplishment is a really tough decision, we've done very well throughout the year and every event has its own reasons why it's so impactful. However if I had to pick one, I would say our 2nd place finish in Spring League Play is our biggest accomplishment. We had a very lackluster Fall semester, even finishing 5-6 in league play, so seeing that much of a bounce back from the players is really something special." The Knights have come a long way since their previous season, and finishing 2nd in League Play truly is a huge accomplishment. 
When I asked Laser what the biggest challenge they've overcome as a team this season is, he said: "Our biggest challenge this season has undoubtedly been working around scheduling with the players. Since both Bambii and Luke are busy with other commitments during most typical scrim blocks, we've only gotten to scrim less than a dozen times this year, and most of those were to warm up before a tournament, meaning no replay reviews." A lack of scrims and replay reviews can be very detrimental to a pro or semi-pro level team.
Laser elaborated with: "We actually did do a replay review a couple days before the LCQ. It was our first replay review as a team, and we went over a series from early in League Play as well as one from Conference Playoffs near the end of the season. We had talked it over prior to that session and decided that we'd purely look at what changed from the beginning of the season until now, and figure out how to get back to our ideal playstyle." Considering how well UCF performed throughout League Play, it makes sense that they'd want to recapture that playstyle. This strategy seems like it worked for them based on their performance in the LCQ.
Prepping for Worlds
I wanted to know what the team is doing to practice for worlds, and what their post-season plans are. To the former, Laser replied: "It might be a bit unorthodox, but nearly everyone is grinding on their own. We have a few scrims set up to keep the team chemistry flowing, but every player on the team has the drive to improve on their own, and I'm not worried about them having issues with chemistry." To the latter, he stated: "[There is an esports facility in development at UCF], and we're extremely excited to start using it. Having the players be in-person really helps with team mentals and is overall a great experience, so we'll be using it as much as possible. Along with the influx of talent coming this year, this should bring the program to a new level."
It seems like the Knights have a clear-cut direction they're heading in, and that they'll only improve from here. It's exciting to speculate how they'll perform at Worlds based on their LCQ performance and their current practice regimen. It's even more exciting to ponder how a LAN environment will improve their chemistry and morale in the coming seasons.
Flying Solo
To close our discussion, I asked Laser for a fun fact about the University of Central Florida Rocket League team. He replied: "Out of the 10 North American teams at CRL Worlds, we're one of a few non-varsity programs. This will also be our 2nd appearance at a CRL LAN event, but this time with an entirely new roster." This is incredible, as they've put in the majority of the work for their team without significant monetary intervention from the university. Laser elaborated, informing me that the only money they've received is an allocation from UCF Sports Clubs, which is the governing body for competitive clubs at UCF. Esports at UCF generates the rest of the funding themselves through membership dues, merch sales, and more.
To make it this far and be this competitive in a scene where most of the top teams are heavily sponsored by their institutions is an amazing feat, and I wish nothing but the best for UCF on the world stage and in their future endeavors. Congratulations to the Knights on their qualification, and good luck!
Follow the Action
University of Central Florida begins Worlds with a Group Stage Best-of-5 against Stockton University. Watch it on the College Carball Twitch on June 3 at 12 p.m. CT (5 p.m. UTC).
Match results and brackets will be posted on both the College Carball Twitter and the Rocket League Esports Twitter.
Check out the schedule so you don't miss a beat!