The CCA Summer Series 2021 reaches its finale this weekend as the top 4 universities from each Conference battle it out in a Bo7, single elimination bracket for the Summer Series Championship. It's win, or go home. 
An additional $9,500 in scholarship prizing is up for grabs (on top of the $20,500 that was spread between League Play and the Conference Playoffs).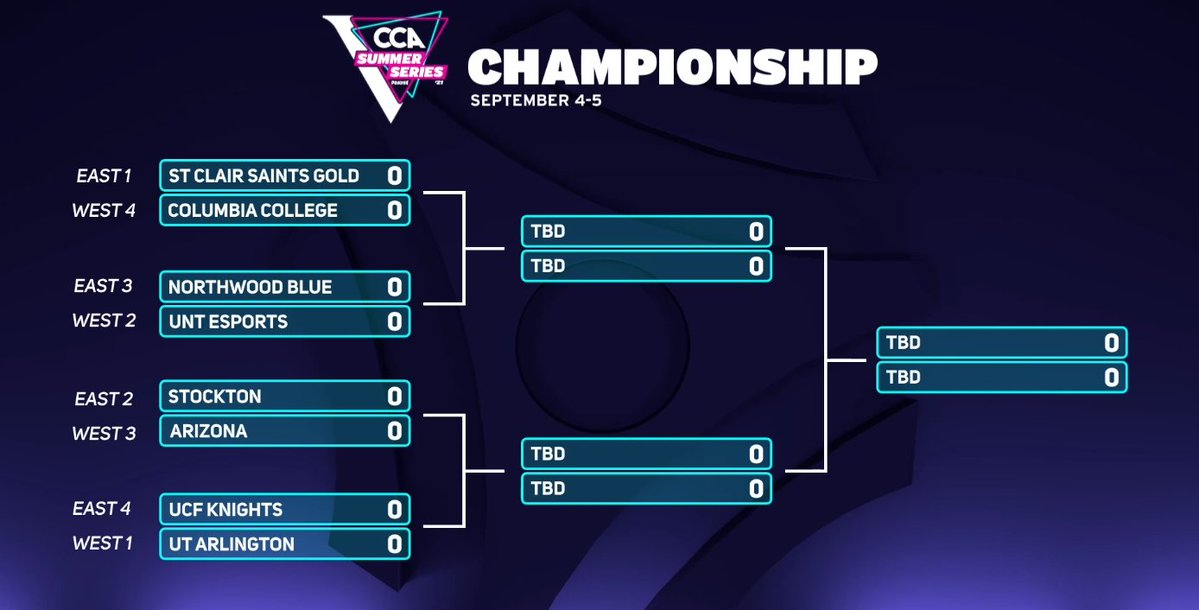 East #1 – St. Clair
Coming off of an undefeated Upper Bracket run in the East Playoffs, St. Clair is looking to keep up their momentum heading into the Championship. After defeating Oakland (3-1), Akron (4-1), and Stockton (4-2), (4-1), the Canadian representatives are poised to go far. In the wise words of CCA host/analyst Seb, St. Clair are "DA KINGS IN DA NORF!"
East #2 – Stockton
After missing qualification for League Play, Stockton started their Summer Series in the Summer Open. As expected, they didn't drop a single series and eventually earned the #1 Open Wildcard spot for the East. They'd use this to their advantage by pulling off the longest playoff run out of any other team, leading them all the way to the Upper Final before losing to St. Clair. Based on how they did during the playoffs, Stockton can surely put up a run this weekend. 
East #3 – Northwood Blue
If you think that Northwood being the #3 East seed is a typo, we promise it isn't. Following a commanding 10-1 record during League Play, Northwood were the favorites heading into the playoffs. Unbeknownst to them, Stockton would be their hard counter, defeating Northwood (3-1) in the Upper Quarterfinals and then once again (4-1) in the Lower Final. Their underwhelming postseason indicates that Northwood might not get the finish they're looking for, but in true Northwood fashion they are likely to show up big when it matters. 
East #4 – UCF Knights
As the #4 East seed, the UCF Knights are here to prove what they've got. After missing qualification for Division 1, they put on a stellar performance in Division 2 where they went 9-2 overall. In the playoffs they were upset early by King University, but went on to put up a 6 match win streak in the Lower Bracket before losing to Northwood Blue. The biggest storyline though, comes from the UCF point man snYpz. After nearly 4 years in collegiate Rocket League his career comes to a close in the Championship.
West #1 – UT Arlington
Heading over to the West, UT Arlington leads the pack. After dropping their first series in the playoffs, they went on a monstrous 6 series win streak and took home the West Conference Championship. The most impressive part turned out to be the stats they put up during their last three matches on broadcast. In 14 games they scored an average of 3.79 goals while only giving up 1.57. If that's not enough, they outscored opponents 53-22, netting them a 12-2 game differential. Leading up to this weekend, they'll be a favorite to take home 1st place. 
West #2 – UNT
Snagging the 2nd seed in the West, UNT is not far behind. With the addition of Ignite to the roster, all eyes were on how the team would perform this season; and they unsurprisingly delivered. With that said, Luciuhh has announced that he will not be able to compete in the Championships, which means that the veteran 2Fast will have to step back in for one last rodeo. 
West #3 – Arizona
At the #3 West seed for this weekend, Arizona has a tough road ahead of them. Facing off against Stockton first will be a test, but it's not something they can't handle. During playoffs they showed up huge by taking down UT Arlington and Mizzou in the Upper Bracket before eventually being knocked out. On a great day, this roster has the ability to beat just about anyone. 
West #4 – Columbia College
Rounding out the West is Columbia College. In their inaugural season as a roster they proved how much of a dominant force they can be. An 8-3 record in League Play put them at 2nd place coming into playoffs, and while they didn't finish where they might have wanted, they have the potential to pull off some upsets. 
You can catch every single match of the Summer Series Championship this Saturday and Sunday starting at 12pm PST // 3pm EST on Twitch. See you there!