With rising senior Busse, and rising sophomores TopCheese and Drip, the Stockton University Rocket League team is heading into Worlds after qualifying with ease, both by placing second in East league play and third in Nationals. The team's confidence is their dominant factor, building them up to step boldly on to the international stage for the first time. 
Adapting & Overcoming 
Stockton's team began in Spring of 2019, and Busse transferred from Rowan University and joined the team in the summer of 2020 after being encouraged by Dark. Dark was a previous Stockton team member at the time of Busse's transfer, and the team's current coach. Dark graduated in the Fall of 2021 after finishing with the team in 3rd in league play. 
"He knows all of us and he just knows how we play," said Busse. "So (having him still around coaching) has been good," 
TopCheese joined in the summer of 2021, and Drip moved up from a sub position following Dark's graduation. Drip's first season with the team was his first playing CRL, and the team took a bit of time to adjust.  At first, dynamics like Dark's energizing presence being gone from pre-game preparation left a hole, but the team has learned to adjust with Busse becoming a pre-match hype man for the team. 
They quickly got back on track to domination, and found the mentality that worked for them. Additional improvements like committing to scrimmaging before every match has increased their consistency. 
"We realized we have to take everyone seriously, and every game series," said Busse. "We need to put in the work."
After their rough patch of two losses to Indiana University and Northwood university early in Spring League Play, they found their groove and had smooth sailing for most of the rest of the season. The team finished Spring League Play with a solid 11-4 record.
They then had a strong playoffs run in both the Eastern Conference and Nationals, placing 2nd and then 3rd.
The Skills 
TopCheese is the designated scorer, and it's the goal of the team to get him the ball whenever possible. Busse sees himself as an all-around player that keeps the team on track and knows what it takes to win. Drip's kicking is his weapon to watch out for. 
TopCheese described competing in a LAN as a war in a recent Stockton article, with the threat of being sent home at a loss looming over their heads. 
This will be the first time any Stockton player will play an international LAN, but they are nothing but excited for the new competition. 
"We played this game to get to a stage like this," said Busse. "I know for at least myself, I'm not nervous at all. I'm gonna be there. I'm gonna take in the energy of the crowd and all, and just play like I normally do."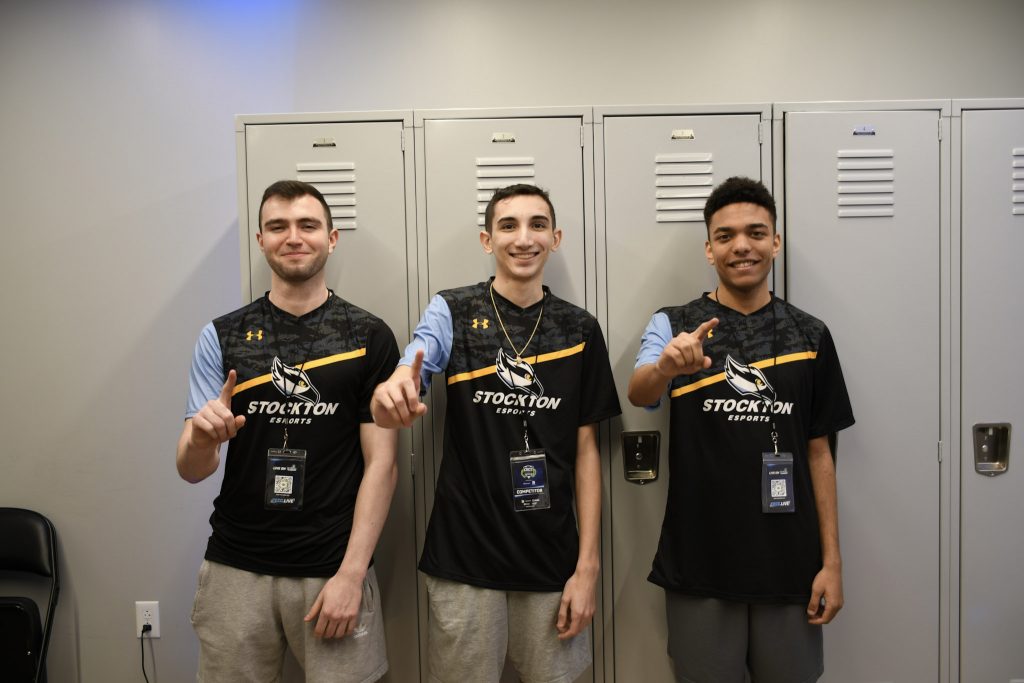 The Confidence 
The three play for the love of the game, and have been for the long-term. TopCheese began playing after the game's release in 2015, Drip in 2016, and Busse in 2017. Busse and TopCheese share a Business Studies major, and Drip is majoring in Computer Science. Their focus and commitment is a factor Busse cites as what sets them apart. 
Busse believes Stockton to be the best team in the country, largely because everyone who is there wants to be there. None of the team is on scholarship, meaning they aren't there for the money. 
"We just want to win and if we don't win, then it's not good enough, and we just have to do better next time," said Busse. "I'm not happy with anything but first." 
Drip expresses excitement to go to Dallas and get out of the routine of playing on his own setups, and acknowledges the possibility of anything happening in the same article, but echoes Busse's confidence that they will win. 
In the CRL Worlds preview show, predictions played out well for Stockton, having them beat UCF in their opening series, and if they are successful, easily beating Berlin in the next. 
"I'm just so impressed by Stockton whenever I see them," DangerTaco said, defending his confident choice of Stockton. "There's so many teams that can't even touch them." 
Follow the Action
Stockton University begins Worlds with a Group Stage Best-of-5 against Technical University of Berlin. Watch it on the Rocket League Twitch on June 3 at 1 p.m. CT (6 p.m. UTC).
Match results and brackets will be posted on both the College Carball Twitter and the Rocket League Esports Twitter.
Check out the schedule so you don't miss a beat!