One of the Canadian collegiate esports pioneers will finally get a crack at a world championship. St. Clair College, also known as Saints Gaming, will be one of 16 teams competing in the 2022 Collegiate Rocket League World Championship. 
Saints Gaming, led by Director Shaun Byrne, are one of the highest touted esports programs in all of Canada. They were one of the first to achieve varsity status for their esports teams and have continued to set the standard for all programs across the country.  Saints Rocket League were one of the first teams at the school and have developed into a powerhouse in the CRL. So after four years, the stage is finally set.
St. Clair began the Spring 2022 season 4-0 before dropping two matches to Central Florida and Stockton, both of which finished in the top 4 to conclude the regular season. SCC then managed to finish out with a 7-2 record down the stretch en route to a fourth place finish. The core group of Comp, Jay and Spoods, accumulated a 62.7% game win percentage. A +44 goal differential also had them among the league lead. Individually, Jay put on a clinic all season long. His 64 goals ranks second in the entire league, only 8 behind TopCheese of Stockton. Spoods also had an All-Star calibre year with his CRL-leading 46 assists (tied with Ottawa's Nitrovity). Comp's 49 goal campaign had him in the top 7 in that category in the Eastern conference.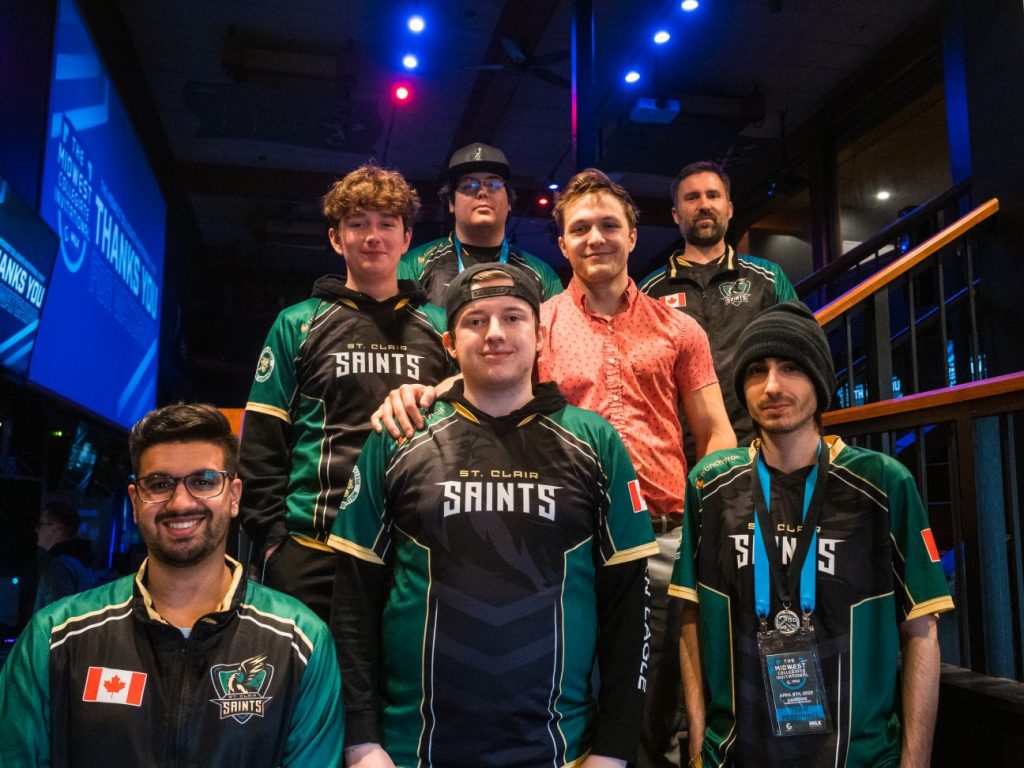 Chris Funston, Assistant Esports Director, was kind enough to share some in-depth info about the team and their season. While the stats are extremely impressive, the mental side of things is an addition that makes St. Clair College stand out from the rest. Nitryx was a mid-season addition that brought both depth and a different dynamic to help boost the team.
Perhaps the most interesting component of this squad is assistant coach Ajay. His background in sports psychology proved to be a crucial part of the team's success. An asset with that kind of background is extremely rare in esports, and this could be a stepping stone for the future  of other programs as St. Clair is showing that that is a possibility. 
Each player on the team has also found a way to balance school and the life of being a collegiate Rocket League player. The team as a whole has been able to average a nearly perfect 3.6 GPA over the course of the year. The minimum requirement was never a concern for the players, who are eager to get to Texas on June 3rd.
"Qualifying for Worlds is an unbelievable feeling and a once-in-a life-time opportunity, but we know the job's not finished yet. Qualifying is one thing, but we want to win" – Chris Funston, Assistant Director
The Spring National Championship saw St. Clair exit in the first round. However, both losses were tight (4-2 and 4-3) and to teams they had yet to play during the season. An 11-4 regular season record is solid, but St. Clair knows that there is more potential in their game. They will also have to play competition they have never seen before with six teams coming over from Europe. 
"The teams here are at the top of their game, but so are we. You don't get to be the best unless you beat the best and that's what we're out to do." – Chris Funston
Follow the Action
St. Clair College begins Worlds with a Group Stage Best-of-5 against Karlsruhe Institute of Technology. Watch it on the Rocket League Twitch on June 3 at 10 a.m. CT (3 p.m. UTC).
Match results and brackets will be posted on both the College Carball Twitter and the Rocket League Esports Twitter.
Check out the schedule so you don't miss a beat!