Introducing Oakland
The Oakland University Rocket League team is a newer face on the scene, but after just a year of JCubed, Rahz, and JWismont playing together, they've seen good success. OU has proven themselves to be adapters, never afraid to reevaluate and change things up as needed. They qualified for Worlds through LCQ placement, and are looking forward to going into the competition aggressively.
They have a unique set of background experiences as JCubed has played for a variety of teams in in-person tournaments, and JWismont has had an extensive pro career. When JWismont came to Oakland there was an adjustment process balancing the skills of the team. Through a process of trial and error, Rahz found his spot being the head aggressive force on midfield and offense. JWismont covers back midfield picking up loose balls, and JCubed intercepts and fills in as needed, seeking to disrupt the opposition whenever possible. Rahz said once they cracked the code, it worked out quite well for them. 
They discovered this throughout Spring 2022, as Rahz started the season off playing more defense as that's where he felt most comfortable. As he developed his mechanics more however, he was able to step into leading offensive plays. Oakland began winning more games because of this, and it stuck.
Strategies for Success
In addition to growth throughout league play, the team has tested the waters of European competition.  In November of 2021, they participated in a 2v2 LAN at Michigan State. Worlds will still be the team's first 3v3 international experience though. They have observed European teams having a more controlled, unified playstyle, and they are hoping they can bring some aggression in to break that.
"I think the biggest hurdle there we're gonna have to overcome is trying to bring up our speed of play," Rahz said. "We know we have the mechanical ability to beat almost any team, it's just a matter of keeping up that aggressive pace that we thrive in and being able to outpace our opponents." 
The adaptability OU has shown in this trial and error will serve them well in their pacing, and runs deep within their team. Even in practice, they are always looking for what makes the most sense for their skills and personalities. After a recurring pattern of practice burnout when the current team first came together, they worked to troubleshoot, and realized they would get more out of increasing their time in local and Smash GG tournaments. 
"One of the things that we try to emphasize a lot when we practice is being familiar in those high intensity bracket environments," Rahz said. "I think because of that, once we got to LCQ, which was just a giant double elimination bracket that we've seen a million times before, we had that confidence that propelled us through that bracket and we beat teams that probably weren't expecting us to beat them."
Additionally, the team prioritizes practicing in person whenever possible, and plan to do so for the time leading up to Worlds. 
Team Mentality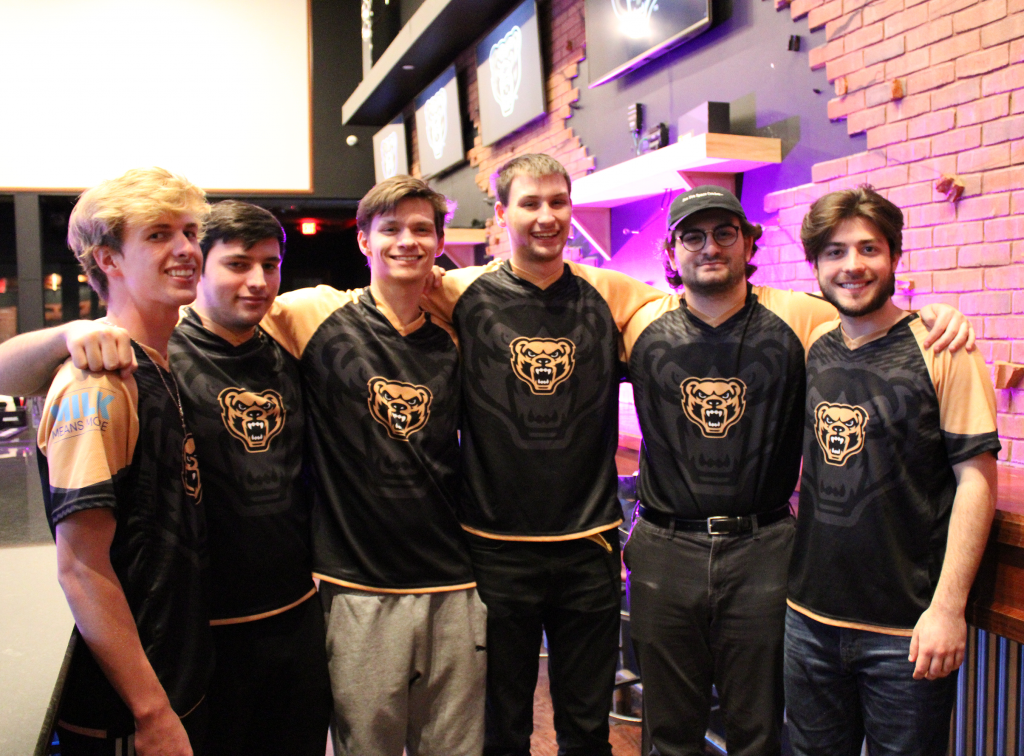 Rahz and JCubed started playing together before Oakland's Rocket League club formed in 2021. They were accompanied by their current sub, Sonic Boom, and in the beginning didn't see as strong of results as they wanted to produce. However, after adding JWismont to the team in Summer of 2021, the missing piece fell into place.
With JWismont, they were able to qualify for Spring CRL, and with an 8-7 league play record they've pulled in the best results of any Oakland esports team. Their Worlds qualification is their biggest achievement yet.
Rahz cites the determination and drive of his teammates as both his own motivator, and the unique factor that will set OU apart on the international stage. 
"They both as players have tons of confidence when it comes to playing high level opponents," he said. "Even if we're playing somebody on paper that's supposed to be better than us. They still go into every match thinking like we're going to beat them. That sort of mentality has elevated my own mentality to be at that level as well, so that no matter who we are on stage playing, we're gonna play as best as we can, and we're not going to give (the opponent) any space to stomp on us."
Follow the Action
Oakland University begins Worlds with a Group Stage Best-of-5 against Technical University of Berlin. Watch it on the Rocket League Twitch on June 3 at 1 p.m. CT (6 p.m. UTC).
Match results and brackets will be posted on both the College Carball Twitter and the Rocket League Esports Twitter.
Check out the schedule so you don't miss a beat!