With the conclusion of Week 3 matches, The League Play portion of the Spring 22 CRL season is more than halfway through. Teams played 40 matches this past week, trading both wins and spots on the leaderboard. Get up to speed with Week 3 as we begin to look towards the end of League Play and the beginning of Conference Playoffs!
EAST: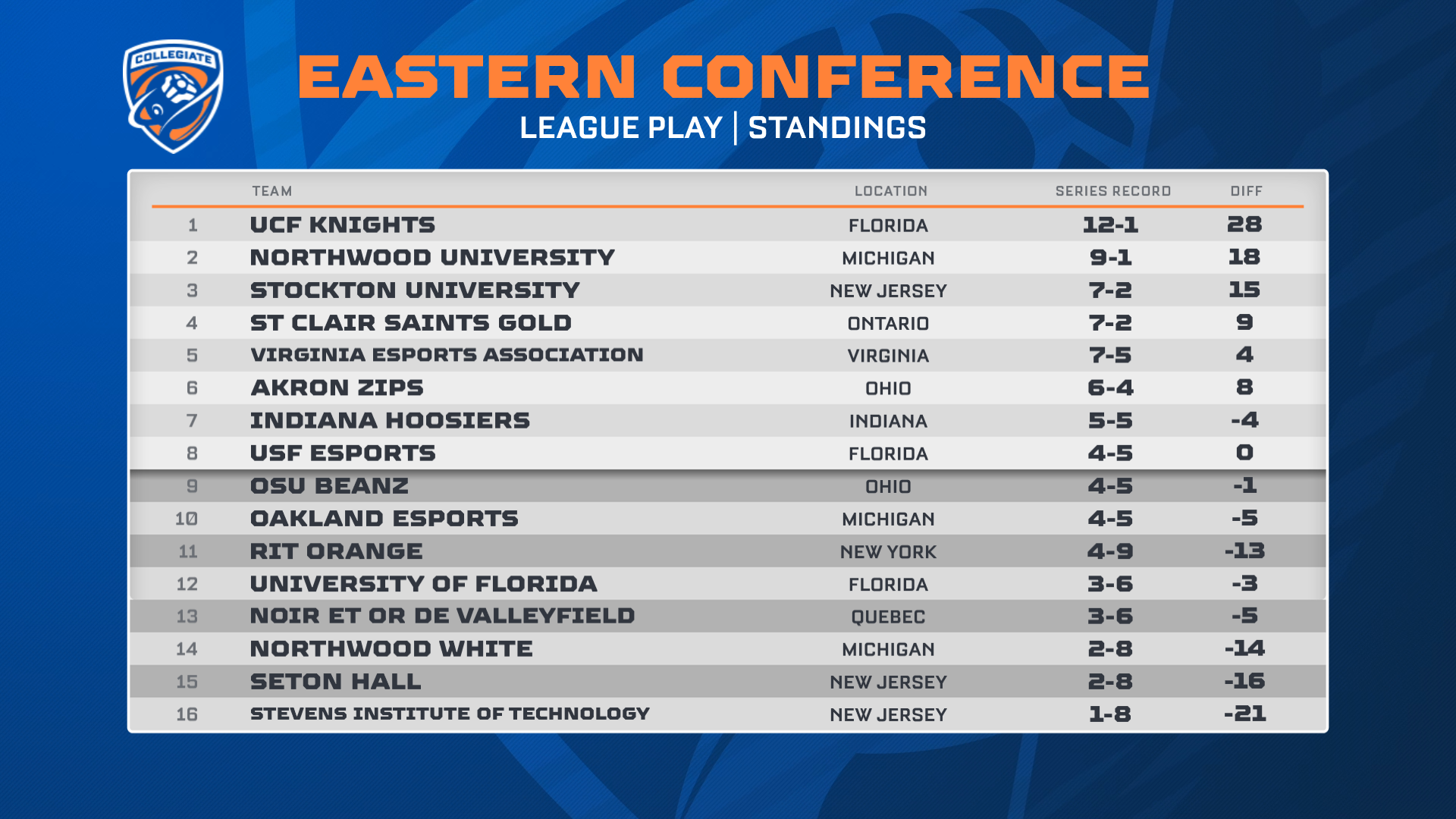 While they are still comfortably in first place, The UCF Knights win streak came to an end this week. After winning 11 of the 15 series they were scheduled to play this season, UCF took their first "L" when they met the OSU Beanz on the field. The final series score of OSU 3-2 UCF shocked the east as OSU still has a negative record in League Play. OSU is looking to turn this upset into something more as they sit on the cusp of the top 8.
Northwood University continues to hold their spot after sweeping Akron and beating Stockton. Their one loss occurred against UCF in Week 1. 
Stockton University moved up from 4th to 3rd after winning all the matches they scheduled for Week 3. They will be playing Akron, Northwood, and UCF in the final 2 weeks of League Play. 
St. Clair Saints Gold switched from 6th to 4th place after a stellar week where they went 3-2 against USF, Virginia, and Akron. They are close to retaking the #2 spot they held on the leaderboard in Week 1. 
Virginia Esports Association are down from 3rd to 6th in the aftermath of their losses against St. Clair and UCF. They did take a 3-0 win against Northwood White that kept them in the top 5 of the rankings for this week.
The Akron Zips are taken down one spot as a result of their tough losses against Northwood and St. Clair. 
The Indiana Hoosiers are peeking their heads into the top 8 for the first time! They sat in 9th the first 2 weeks, and are now 7th. Their wins against middle-of-the-pack teams like Seton Hall and RIT were enough to get them into the top 8. Now it's just a matter of staying there in the last 2 weeks.
University of South Florida maintain their 8th place for the third week in a row. Their record has shifted slightly to the negative side, but they are still holding on. USF will be a big team to watch over the next 2 weeks as they have 6 matches left that could either push them in or out of the playoffs for good.
West: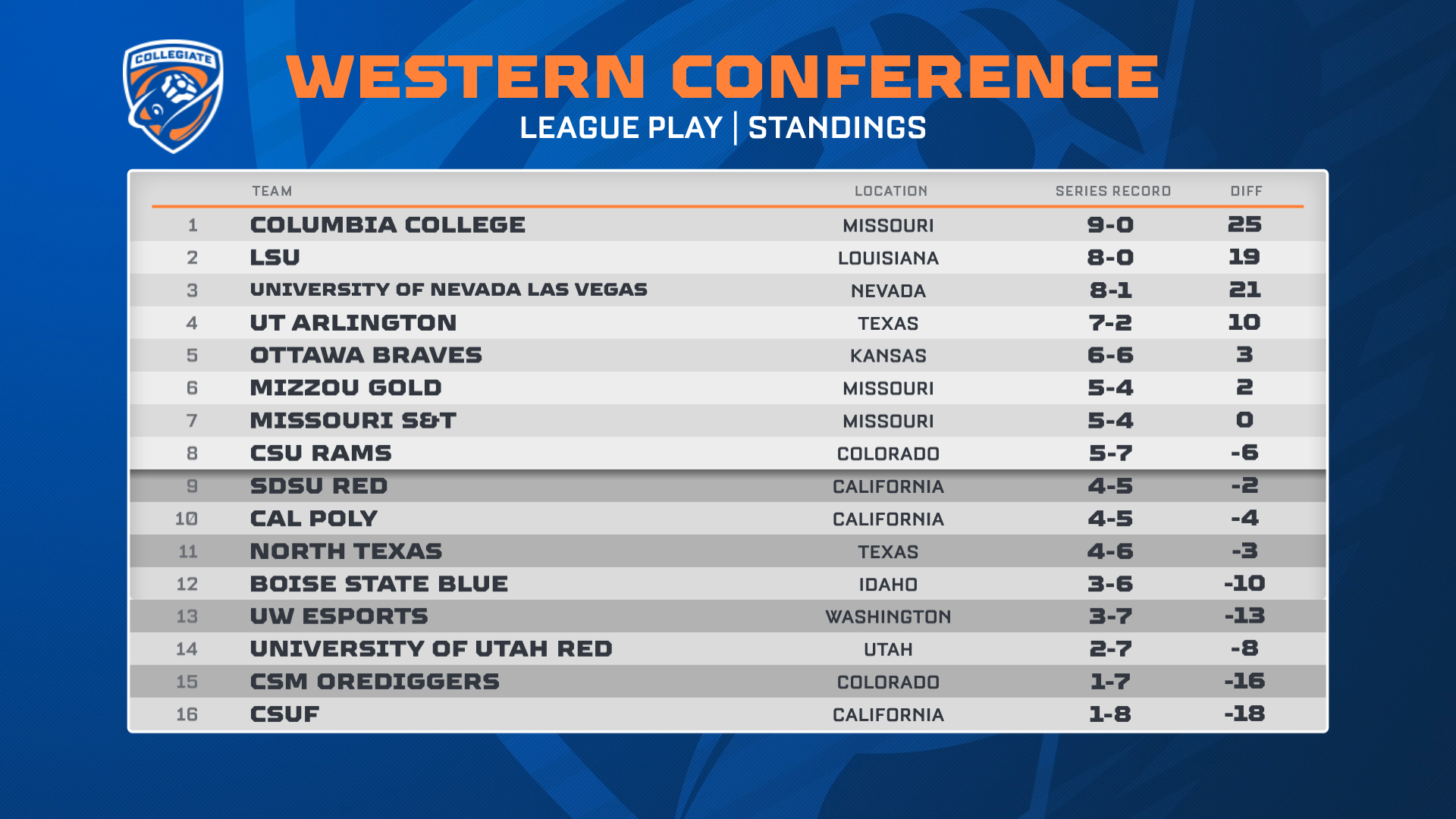 The West Standings are even more of a spectacle as there are still two undefeated teams. 
Columbia College have dropped 0 series this season, and have only dropped 2 games – one against Boise and one against Mizzou Gold. Their wins of the week were against CSUF and CSM, and CC just keeps winning. 
Louisiana State University are in a similar position to CC. They collected 8 series wins this season, and only dropped 5 games in the process. UTA attempted to dethrone LSU but ended up going 2-3, taking LSU to 2 overtimes in the process.
The long-awaited Columbia vs. LSU match is scheduled for the Rocket League stream on March 10, 2022, at 10:30 PM Eastern. All of us at CCA will be watching to see which team will remain undefeated.
University of Nevada Las Vegas were just kicked from the first place seat they enjoyed the past 2 weeks. They suffered their first loss at the hands of San Diego State University Red – a team currently ranked 9th. 
University of Texas – Arlington maintain their #4 spot with a tough 3-2 win against both Mizzou and UNT. They also faced LSU, where they took 2 games off the Tigers before ultimately losing the series.
The Ottawa Braves have steadily worked their way up from 7th and 8th. They only have 3 more League Play matches to complete this season, so their ranking is less subject to change in the final week.
Mizzou Gold dropped from 3rd to 6th as a result of their tough Week 3 matches. They lost 2-3 to UTA, 1-3 to Boise, and 0-3 to UNLV. Mizzou's initial wins should be able to keep them in the top 8 as long as their final matches resemble their early season performance.
Missouri S&T moved down by one to 7th after losing 2-3 against Boise. MST prevailed against Cal Poly and Utah to stay in the top 8, though their situation is looking precarious now as the lower ranked West teams are rising.
The Colorado State University Rams are a newcomer to the top 8, making the climb from 15th to 12th to where they are now. Their sweeping wins against CSM and Washington are what pushed them up here. Their position isn't guaranteed as occasional losses like the 1-3 they suffered against Cal Poly might put them back underwater.
Looking Ahead To Week 4:
Tune in this week to see your favorite CRL teams play on both the Rocket League channel and the College Carball Association channel. Check out the CRL Spring 2022 Mastersheet to find out where and when to cheer on your favorite teams!